It is not at all difficult to do something different on your grill – I mean instead of throwing a steak, burger or a piece of chicken on. Here are a few great ideas for you – Enjoy!
Grilled Potato Toss
Create a simple grilled potato toss. Cut baby Yukon Gold potatoes in half; toss with olive oil, salt and pepper. transfer to a grill pan or grill wok. Grill, covered over medium coals for about 35 minutes, tossing occasionally. Toss cooked potatoes with high-quality pitted olives, thinly sliced red onion, choppped basil and little olive oil and red wine vinegar.
Power Lunch or Dinner Beef Tenderloin
Fuel up with some great power food for lunch or dinner: Remove zest and juice form 1 lemon and set aside. In a bowl, combine 12 oz. of beef tenderloin, grilled and sliced, 5-8 oz. of arugula, 1 bulb oof fennel, thinly shaved, 1 bunch of asparagus, trimmed, grilled and slightly chilled; 1 pint of grape tomatoes, halved; 1 red onion, sliced, grilled and slightly chilled; 1.2 cup of low-fat feta cheese, crumbled; lemon juice; 3 tablespoons of olive oil; salt and pepper. Top with lemon zest and chives, chopped and Enjoy!
Great Homemade Sauce
Use this great sauce for grilling pork chops, ribs or chicken: Whisk together 1/2 cup of canola oil, 1/4 cup of white miso (fermented soybean paste), 1/4 cup of soy swauce, 1/4 cup of pure maple syrup and 4-1/2 teaspoons of red chile paste until smooth. Use about 1/2 the mixtrue for each pound of chicken, pork chops or ribs. Brush on before grilling and again when you flip the meat halfway through grilling time.
Breakfast Pizza
Grill a pizza for breakfast: Set up your grill for indirect grilling. Brush one side of pizza dough with olive oil. Gently lower oiled side onto the grill, then brush the top side with oil. Use tongs to turn it when grill marks appear, checking every 30 seconds. Carefully crack 4 eggs onto crust. Cover and grill 5-6 minutes. Sprinkle with 1 cup of grated Swiss cheese and 1/ cup of Parmesan cheese. Cover and grill for 1-2 minutes more until cheese melts. Top with cooked bacon and minced chives.
Are you looking for a great way to to spruce up your burger? Check out recipe for
Grilled Burger with Horseradish Sauce
And for a refreshing dessert…….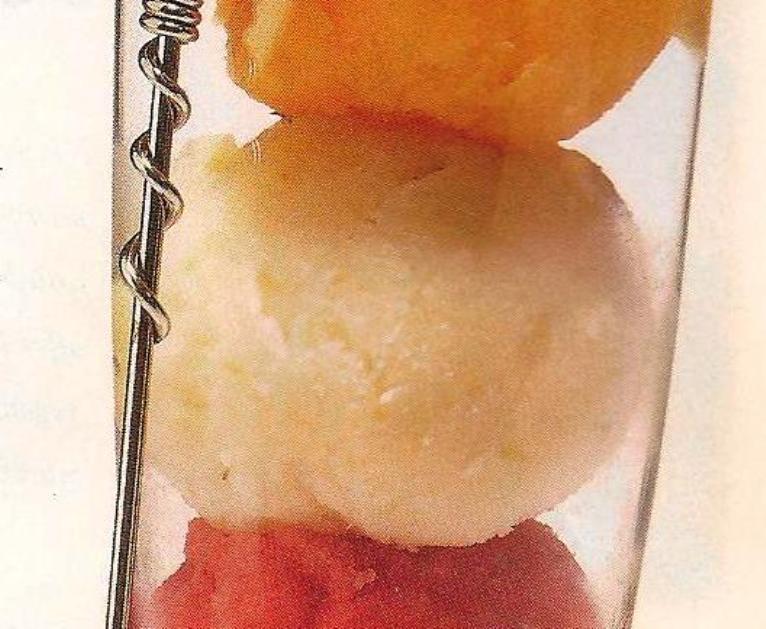 Hope you will enjoy these recipes – please send me your comments, your input is alwasy welcomed and very much appreciated!