Last Updated on November 20, 2017 by Hanna Trafford
I am finding out that the goodies you want to make sure you have included in your Thanksgiving feast are the traditional ones. And pumpkin pie definitely qualifies! Here is an easy, no fail recipe for you – include it in your festive menu and enjoy!
Old Fashioned Pumpkin Pie
1 -1/4 cups pumpkin puree, canned or fresh
3/4 cup sugar
1/2 teaspoon salt
1/4 teaspoon ground ginger
1 teaspoon ground cinnamon
1 teaspoon all-purpose flour
2 eggs, lightly beaten
1 cup evaporated milk, undiluted
2 tablespoons water
1/2 teaspoon vanilla extract
1 unbaked pastry shell (9-inch)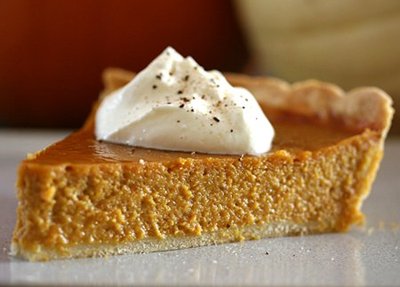 Instructions:
Combine pumpkin, sugar, salt, spices, and flour in a medium mixing bowl.
Add eggs; mix well.
Add evaporated milk, water, and vanilla; mix well.
Pour into pastry-lined pie pan.
Bake at 400° for 15 minutes; reduce heat to 350° and bake about 35 minutes longer, or until center is set.
Hope you enjoyed this recipe – please send in your comments, suggestions and experiences – your input is always welcomed!