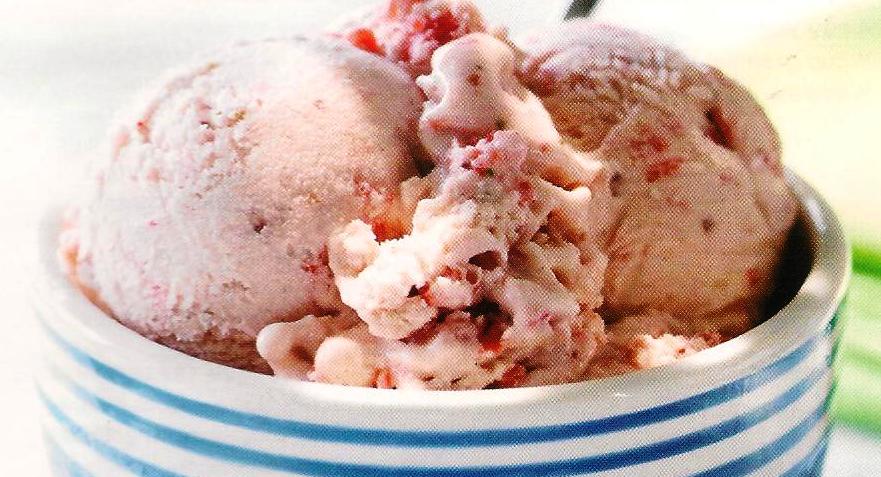 Strawberry ice cream is always family favorite! You will need to choose berries that are ripe and red in the centre – those will give you the best flavour!
Ingredients:
1-1/2 cups of milk
1-1/2 cups of whipping cream (35%)
1 strip of orange zest – about 2 inches long
1 teaspoon of black peppercorns
6 egg yolks
1/2 cup of sugar
pinch of salt
Strawberry puree:
4 cups of hulled strawberries
3/4 cups of sugar
1 tablespoon of lemon juice
How to make the strawberry puree:
In food processor, puree together strawberries, sugar and lemon juice until smooth.
Strain into a bowl and refrigerate.
Making the ice cream:
In a saucepan, heat together milk, cream, orange zest over medium heat until tiny bubbles form around edge.
Remove from heat; cover and let steep for 10 minutes.
Strain.
In a large bowl, whisk together egg yolks, sugar and salt; slowly whisk in cream mixture
Return to pan and cook over medium heat, stirring constantly until thick enough to coat back of a spoon. – about 8 minutes
Strain into bowl and refrigerate until cold, about 2 hours.
Reserving 1/4 cup of the puree, stir remaining puree into egg mixture
Pour into 9 inch square pan
Place plastic wrap directly onto the surface and freeze until almost solid – 3-4 hours
Break into chunks and process in a food processor until smooth.
You can also freeze in ice-cream machine according to manufacturer's instructions.
Spoon one quarter of the ice cream into airtight container and add one-third of the reserved puree, swirling slightly with spoon.
Repeat twice.
Cover with remaining ice cream and freeze until firm – about 6 hours.
You can freeze this ice cream for up to one week.
Hope you will enjoy this recipe  – please send me your comments, suggestions and experiences, your input is welcomed and very much appreciated!