Last Updated on February 28, 2014 by Hanna Trafford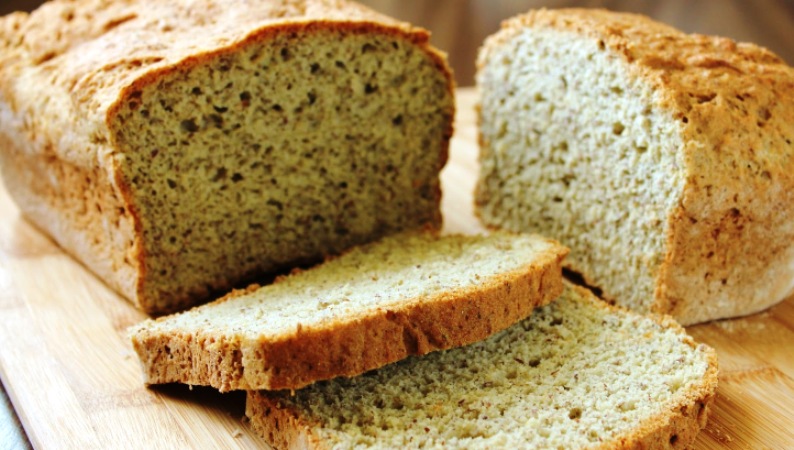 This delicious bread will only take you about 10 minutes to put together and you will be able to make anything from grilled cheese, delicious sandwich or French toast. And it will freeze without a problem so you can make extras and enjoy them at a later date.
Gluten-Free Sandwich Bread:
Ingredients:
1 cup of tapioca starch
1 cup of brown rice flour
3/4 cup of potato starch
3 tablespoons of ground flaxseed
2 teaspoons of quick-rising (instant) dry yeast
2 teaspoons of xanthan gun
3/4 teaspoon of salt
1-1/3 cup of warm milk
2 eggs
1 tablespoon of liquid honey
2 teaspoons of light olive oil
1 teaspoon of cider vinegar
Directions:
In large bowl, whisk together tapioca starch, brown rice flour, potato starch, flaxseeds, yeast, xanthan gun and salt
Whisk together milk, eggs, honey, oil and vinegar.
Pour over tapioca starch mixture and stir until well combined.
Scrape into parchment paper lined 8 x 4 inch loaf pan and smooth the top.
Cover loosely with plastic wrap
Let stand in warm draft-free place until loaf rises just above the rim of pan – about 20 minutes.
Bake in 350F oven until light golden and a tester inserted in centre comes out clean – about 1 hour.
Transfer to rack
Serve warm or let cool.
I hope you will enjoy this recipe – please send me your comments, your input is always welcomed and very much appreciated!