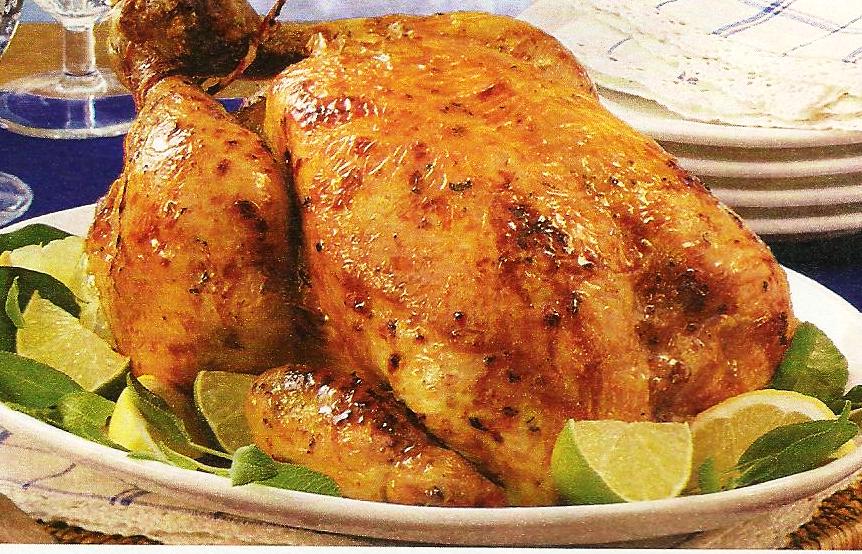 This is a great recipe and it will take you about 10 minutes to prepare! We had it for dinner and then I used the leftovers cold to top nice, fresh, mixed green salad – great way to make 2 dinners at once!
Easy Roasted Chicken Recipe:
Ingredients:
2 lemons
1/4 cup of butter, melted
1 tablespoon of chopped fresh sage
2 teaspoons of fresh chopped thyme
1 whole roaster chicken (about 4 lb.s)
3 springs of sage
2 springs of thyme
Directions:
Preheat your oven to 350F.
Zest and juice 1 lemon, quarter remaining lemon.
In a bowl, combine butter, chopped sage, chopped thyme, 2 tablespoons of lemon juice and 1.2 teaspoon of lemon zest.
Set aside.
Season chicken cavity with salt and freshly ground black pepper.
Place sage springs, thyme springs and lemon quarters inside cavity.
Tie legs of chicken together with kitchen string.
Place on rack set in roasting pan.
Brush 1/2 butter-herb mixture evenly over chicken.\
Roast chicken for 1 hour and 20 minutes or until meat thermometer inserted in thigh (not touching bone) reads 165F, basting occasionally with remaining butter-herb mixture and pan juices.
Let sit 10 minutes before slicing.
Make this recipe even better by serving the chicken with mashed potatoes with a special touch. Just click on the link below to check out four different ways to make better mashed potatoes!
Four Different Ways to Make Masher Potatoes
Enjoy and send me your comments anytime!