Last Updated on March 31, 2012 by support_b8i621vg
Easter is just about upon us once again and as always, I love to add easy to make crafts.
All of these are great to get your children involved in a very creative process and you don't need too many special materials to create some really beautiful and inexpensive Easter decorations.  As with any other crafts, let you imagination run wild and get creative, using the described crafts as a guideline to creating other versions.
I really hope you have fun with these, if you've got any different craft ideas or ways to make these crafts better, please leave a note in the comments below. As always please share these with your friends and family through Facebook or by email.
Easter Egg Heads: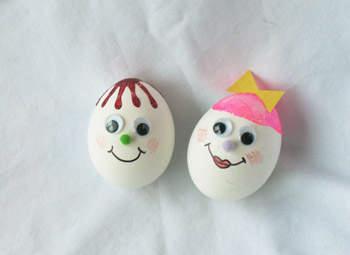 Bring out a young crafter's creativity with these Easter egg heads. Kids think the wiggle eyes are especially funny! And when you visit your local craft store to get the wigglies, keep your eyes opened for things you can use for hair, hats, etc – get creative and you will love the results!
Materials:
Boiled eggs

3-D paint or glitter glue, in a variety of colors

White craft glue

Wiggle eyes, in any size

Cooling rack or film canister lids

Marker

Mini bowl (optional)

Tweezers (optional)

Empty egg cartons
Directions:
You will need to decorate only one side of the egg at a time. Let the eggs dry either on egg cartons turned upside down, on a cooling rack or film canister lid. Decorate other side when first side is dry.
Place egg into an empty egg carton for stability.

Use glitter glue or 3-D paint to "draw" on hair. This will need to dry for several hours.

If you wish to add a bow, place a small construction paper or ribbon bow into the 3-D paint or glitter glue hair before it dries all the way.

Decide where you want to place the wiggle eyes and glue them in place.

Add a nose by gluing on a miniature pom pom

Draw on a mouth with a marker.
Place on a decorative plate, an Easter basket, or make an arrangement for your table
 Bunny Wreath
Materials:
Ring of cardboard (empty cereal boxes work wonderfully)

construction paper (pink and yellow, green and pink or combination of your choice)

scissors

glue
Instructions:
Trace a small plate and a large plate onto a piece of old cardboard.    

Empty cereal boxes or frozen dinner boxes work well  

It doesn't matter if you go over the folds of the cardboard 

Cut a small strip of cardboard and glue it onto the back of the ring over any folds in the cardboard. This will reinforce the ring.

Cut strips of construction paper (about 1 1/2 inches by 4 inches) and glue the strips into rolls (like making a paper chain)

Glue the rolls of construction paper onto the wreath.  We made a pink and yellow pattern, but you can do it however you wish.  

Print out the template.  

Color the template pieces and cut out.  

Glue the head, easter egg and two paws on top of the wreath.  

Glue the body, tail and two paws on the back of the wreath (so it looks like the bunny is peeking over the top.
Bunny Template
Have a great time making these and please send in your comments, suggestions and pictures – your input is always welcomed and very much appreciated!