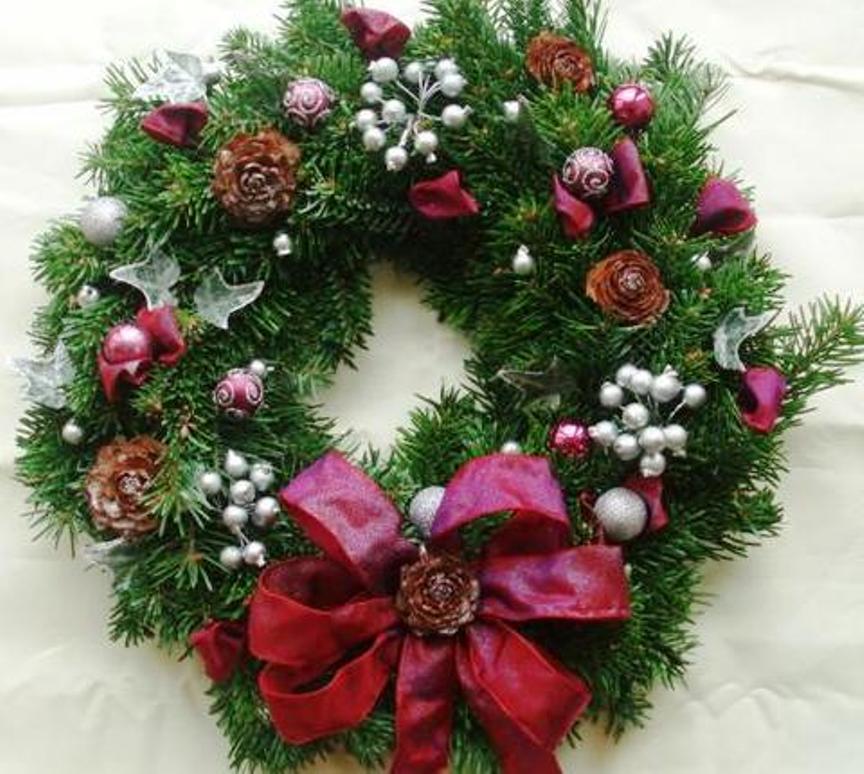 You can go to pretty much any store and buy a very nicely decorated wreath. I checked a few yesterday and every one of them had something I would have done differently for one thing – the other thing is that the cost of decorated wreaths shocked me! You can buy a plain green wreath for under $10 – look at the decorated ones and the price tag jumps up to $40 and up! i actually saw a wreath that was selling for $90 and it didn't even have lights on it! So – here is a solution:
First – go through your Christmas decorations and pick pieces that you would like to have on your wreath – set them aside. Then – venture out into your local store (Walmart will do nicely and you will save a few bucks too) and buy a plain artificial wreath and a basic set of mini lights if you want to light up your wreath. The alternative is taking a walk a picking up evergreen branches and then making a really nice, natural wreath – I am actually thinking about doing that.
Then sit down with all your stuff and start creating your very own wreath! And do not worry or get discouraged – remember that if you are not happy with what you are doing – just change it!
Wreaths can be embellished to achieve a variety of looks. You can add ribbons, ornaments, floral materials – anything that will reflect your personal style and add to the theme of your home Christmas decor.Artificial evergreen wreaths are very easy to decorate – you just simply twist the branches around each item to secure them – or use floral wire or hot glue to do that.
Start with using one item at a time, spacing them evenly around the wreath to achieve a balanced look. Add the large items first and fill any bare spaces with smaller ones. Secure items at  the surface as well as closer to inside of your wreath – that is to achieve a sense of depth.
And if you are going to put mini lights on – put them on first, light them and work your other items around them – you will be able to see better what the final result will be.
Here are a few ideas for you:
I think these are beautiful wreaths and consider this: if you are still thinking about how to decorate your tree – extend the wreath decorating ideas  – they could be easily applied to that task!
Hope you have enjoyed this information, please send in your comments, suggestions and experiences – and pictures as well! – your input is very welcomed and much appreciated!